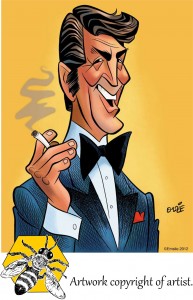 Peter Emslie
"Dean Martin Crooner"
Brush and ink with colour added in Photoshop Reproduction printed on quality 11″ x 17″ heavy weight paper stock.
$20 plus shipping
Peter Emslie is a former Disney illustrator.
To arrange for purchase bigartbuzz@gmail.com
Christmas 2015 was the 20th anniversary of Crooner supreme Dean Martin.