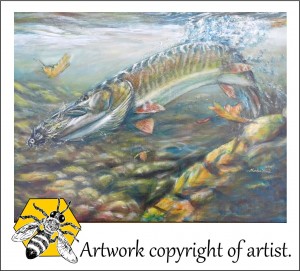 Charles Weiss
"Tempted by a Double Bunny Fly"
Acrylic on board
Painting of the dramatic underwater scene of a Muskellunge attacking an angler's fly.
In ealy 2020 Charles moved to the east coast of Canada.
Big Art Buzz was launched to share the creativity of Ontario artists. Charles Weiss works showcased here are works he created in Ontario.
To view more of artist/illustrator Charles Weiss go to: http://www.charlesweissart.com/