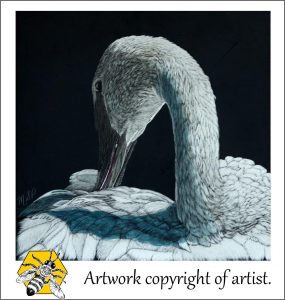 Margaret Sarah Pardy
"Bellissimo"
Scratchboard
8″ X 8″
Trumpeter Swans
From photo reference she shot at Heartlake Conservation, Brampton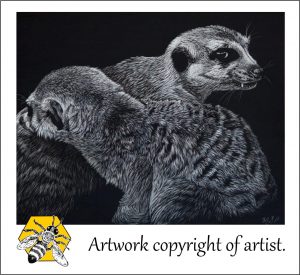 Margaret Sarah Pardy
"I Got Your Back"
Meerkats
Scratchboard
8″ X 10″
Reference from Cincinnati Zoo.
Margaret's an international artist. Her creative process starts with her original photographs of nature, and then takes the best images to work up her composition. Many times she uses multiple images for reference to create her final composition.
Her studio and gallery space at the Alton Mills Art Centre at 1402 Queen St., Alton, Ontario. She also participates in various juried shows across southern Ontario and the United States.
http://margaret-sarah-pardy.artistwebsites.com/