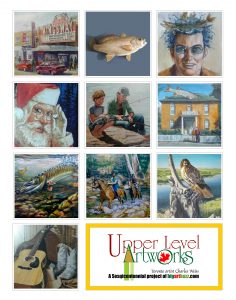 Charles Weiss
Charles' Portfolio
Works by Charles Weiss compiled for Upper Level Artworks
A Sesquicentennial Project of Big Art Buzz.
There are ten square details of works in each frame and 15 frames
which showcases a total of 150 works for Canada's 150th.
This is the fourth posting of the 15 portfolios.
In ealy 2020 Charles moved to the east coast of Canada.
Big Art Buzz was launched to share the creativity of Ontario artists. Charles Weiss works showcased here are works he created in Ontario.
To view more of artist/illustrator Charles Weiss go to: http://www.charlesweissart.com/