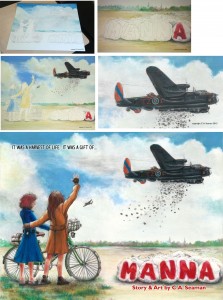 C.A.  Seaman
Stages in his illustration: Preliminary stage he worked on at Big Art Buzz event, closeup of lower section of illustration, full view with some of plane, closeup of plane, and completed double page.
You may see much more of Christopher's works at Fineartsmanga.com
Click on Fine Arts Drawing and Painting which takes you to Fine Arts Image Galleries.