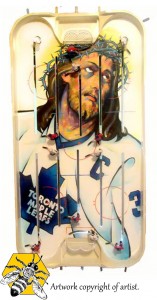 Anthony Jenkins
"Jesus, We Lost Again"
Acrylic on working table hockey game.
This is one of Anthony's works that is on display in our largest exhibit yet, "A Creative Buzz" in The Etobicoke Civic Centre Art Gallery, 399 The West Mall until Sunday, August 19. That day from 2 to 4 is the closing ceremony of the show.
Tony will do anybody on a working hockey table game for $600.