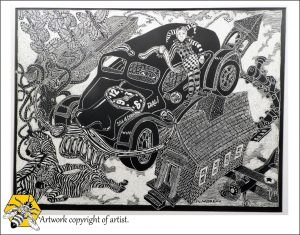 Keith Moreau
"Sal 4 Door Dali"
Scratchboard 18″ x 24″
Created for solo show in the Rose Theatre Gallery titled
"All the Grills I've Known Before" this piece took over 17 hours just for the scratching. That doesn't include the design and layout or the transfer to the scratchboard. Work completed September 22, 2016 and minor enhancements on January 24, 2018.
This work was also exhibited in the "Gathering" themed show July 10 to August 23, 2019 at the Central Library in Mississauga. It was a Visual Arts Mississauga juried exhibit.
Keith is the artist behind Big Art Buzz and welcomes you to the creative hive.
To see more of Keith's artwork, check out his Facebook page.
Now with an Album "Perspective Lessons Plus"