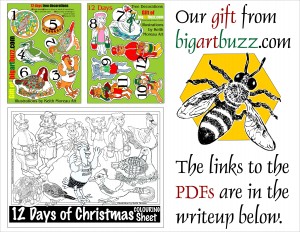 Keith Moreau
"3 for Free"
Design and illustrations are by Brampton artist Keith Moreau.
Clicking on any of the 3 links below will connect with a PDF to enable you to print. The first link is for the black & white colouring sheet, second is for the first six decorations and the last is for the six other decorations.
Merry Christmas to everyone.
Keith is the artist behind Big Art Buzz and welcomes you to the creative hive.
To see more of Keith's artwork, check out his Facebook page.


http://www.bigartbuzz.com/wp-content/uploads/2016/12/12-days-Christmas-colouring-sheet.pdf
http://www.bigartbuzz.com/wp-content/uploads/2016/12/12-days-Christmas-tree-or-fridge-deco-A.pdf
http://www.bigartbuzz.com/wp-content/uploads/2016/12/12-days-Christmas-tree-or-fridge-deco-B.pdf
Keith is giving permission for individuals to print the full colour decorations sheets and/or the "12 Days of Christmas" colouring sheet for family use (and to give to friends) & for teachers to give to students. Public institutions such as libraries, museums, galleries and places of worship may also distribute for free.
NOTE: No for profit useage is allowed unless permission is given by artist Keith Moreau.  bigartbuzz@gmail.com
Keith is the artist behind Big Art Buzz and welcomes you to the creative hive.
To see more of Keith's artwork, check out his Facebook page.
Now with an Album "Perspective Lessons Plus"
The 12 Days of Christmas A Cappella Keith Moreau is now on Youtube for your viewing enjoyment with vocals provided by mother/daughter duo Moira & Elena and the illustrations by Keith.
https://www.youtube.com/watch?v=6xvS3hJgBJs