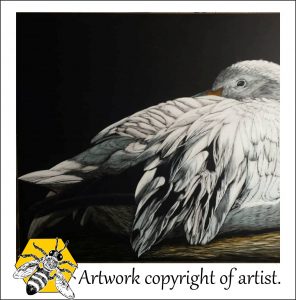 Margaret Sarah Pardy
"All Tucked in for Winter"
Watercolour ink on scratchboard
9″ X 12″
$1,000
Exhibit premier at 2019 Buckhorn Art Festival
This is one of two works Margaret sold at the 2019 Elected Members Juried Art Show at Vida Viva Gallery, Pointe Claire, Quebec.
Margaret's an international artist. Her creative process starts with her original photographs of nature, and then takes the best images to work up her composition. Many times she uses multiple images for reference to create her final composition. For this amazing piece she worked from a photo she shot at the Metro Zoo in Toronto.
Her studio and gallery space at the Alton Mills Art Centre at 1402 Queen St., Alton, Ontario. She also participates in various juried shows across southern Ontario and the United States.