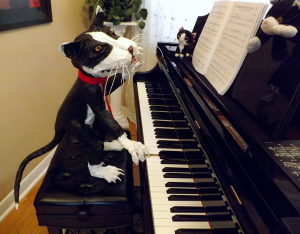 Peter Scott
"Arthur Clumping"
Mixed media sculpture
Peter was invited to join Big Art Buzz and happily brought Arthur to our current exhibit in the Civic Centre near Dixie Road and Queen Street in Brampton (150 Central Park Drive in front of the Chinguacousy Branch of the Brampton Public Library).
When the Scotts are away the cat will play?
Check out http://snuzplanet.com/basement/ for more about Arthur.