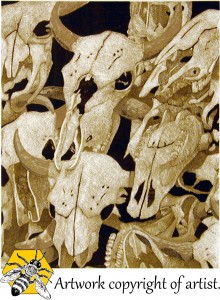 Keith Moreau
"Buffalo Skulls"
Serigraph from Scratchboard
18″ x 22″
$175
Keith says: "On one of our family trips out west we went to the museum at Head-Smashed-In Buffalo Jump World Heritage Site. Totally enjoying the experience, I took a photo of a display of buffalo skulls. Back in Ontario, I created a scratchboard work and gave it to my wife as an anniversary gift. The positive reaction from the public when viewing it at various shows lead to me creating a nine colour hand separated photo screen image, in a very limited edition. I loved the creativity of the translation of a work from one to nine colours. At the first show someone fell in love with the piece and bought one of the edition at the opening".
Accepted in 1994 Arts Etobicoke Juried Show and achieved the Award of Excellence. Also accepted in Visual Arts Mississauga and Rivercrest Gallery juried shows.
To see more of Keith's artwork, check out his Facebook page.