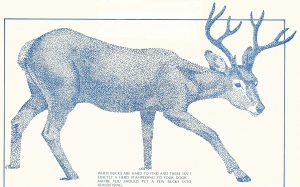 Keith Moreau
"Deer By Dots"
Illustration for ad promo created in the early 80s
Stipple drawing technique (one dot at a time)
Ad copy reads as: When bucks are hard to find and there isn't exactly a herd stampeding to your door, maybe you should put a few bucks into advertising.

Keith is the artist behind Big Art Buzz and welcomes you to the creative hive.
To see the full promo and more of Keith's artwork, check out his Facebook page.