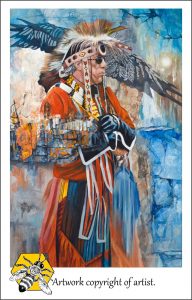 Brian J. Michon
"Fancyman"
24″ x 36″
Acrylic
Brian finished this painting prior to Christmas 2017.  The painting is called Fancyman, which happens to be the name commonly associated with this dancer.  His real name is Francis Goodchild.  Brian wanted to keep the painting in the same vein as his previous paintings which incorporates a colourful, abstract background with the portraits.
Along with his amazing portraits Brian enjoys painting landscapes.
Brian is from Geraldton, Ontario.