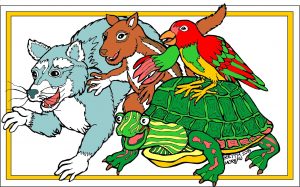 Keith Moreau
Pen and ink with digital colour
Designed for use as part of his 2018 Christmas card.
Original illustration 10″ x 15″
FREE activity sheet for colouring is available for printing by clicking on the black and white illustration below.
This is offered for printing only where no financial gain is involved by the individuals who do print the sheet. It is intended as an activity for your children, grandchildren, students, family and friends. It makes a great activity for the Christmas break  and will print as an 8.5″ X 11″ black and white colouring sheet.
Have a Very Merry Christmas and a Happy New Year!
Keith is the artist behind Big Art Buzz and welcomes you to the creative hive.
To see more of Keith's artwork, check out his Facebook page.