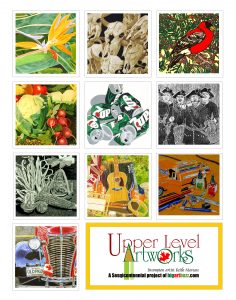 Keith Moreau
"Keith's Portfolio"
Works by Brampton Artist Keith Moreau compiled for Upper Level Artworks
A Sesquicentennial Project of Big Art Buzz.
There are ten square details of works in each frame and 15 frames
which showcases a total of 150 works for Canada's 150th.
This is the sixth posting of the 15 portfolios.
Keith is the designer/manager of bigartbuzz.com and the artist who organized and curated the "Upper Level Artworks" exhibit and welcomes you to our creative "hive".
To see more of Keith's artwork, check out his Facebook page.
Now with an Album "Perspective Lessons Plus"