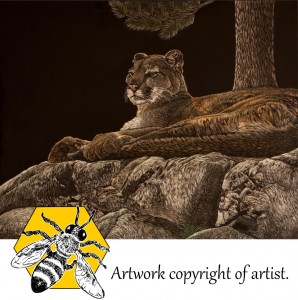 Margaret Sarah Pardy
"King of the Hill"
Scratch board and watercolour
Margaret is on exhibit in  "OUT OF THE BLACK"
November 17 to 28 at Beaux Arts Gallery in downtown Brampton.
Reception for this five women show is Thursday, November 19, 2015 from 7 to 9 pm.
To see more of animal artist Margaret's works visit:
http://margaret-sarah-pardy.artistwebsites.com/ and see this Brampton, Ontario artist's beautiful animal art.