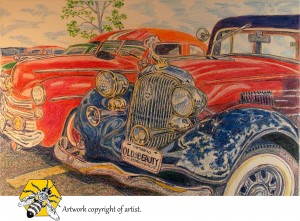 Keith Moreau
"Old Beauty"
Coloured Pencil
$400
Layout for this image was created July 10 at the 2016 Canada Pavilion in Brampton, Ontario and further illustration was completed by July 14 at Keith's home studio. Keith has loved old automobiles for years now and has various works containing actual antique cars or die-cast scale models.
"Old Beauty" is in our largest exhibit yet, "A Creative Buzz" in The Etobicoke Civic Centre Art Gallery, 399 The West Mall. Show continues until 4 o'clock, Sunday, August 19, 2018.
Coloured pencil piece "Patriotic Pickup" was accepted into the second last Art of the Automobile Show and traveled to the Montreal Auto Show, the Toronto Auto Show and the Calgary Auto Show. Thirty-two works were selected from a cross Canada entry and Keith's was one of those selected. The work is in a private collection.
Keith is the artist behind Big Art Buzz and welcomes you to the creative hive.
To see more of Keith's artwork, check out his Facebook page.
Now with an Album "Perspective Lessons Plus"