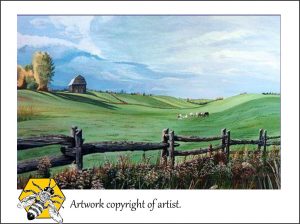 Lu Robitaille
"Pasture"
Framed original watercolour
22″ x 12.5″
$2,500
Lu Robitaille was born in historic Penetanguishene. She and her husband raised their two children in the remoteness of Tadenac Bay, later settling in Huronia.
Lu has a home studio on Cedar Brook Farm, her family fish farm. Her deep feelings for Georgian Bay live in the art she creates; her rocks and water reflect the love and warmth she has for this unique part of Canada. She has a great affection for the character of old farms and lighthouses. Lu has developed a new style and format based on watercolour for her medium. For more information, or to arrange a private viewing of her work, Lu invites you and your family to contact her.