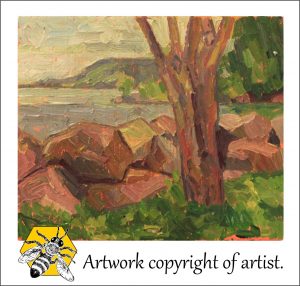 Jesse Unsworth
"Rocks and Tree"
Oil painting
7″ X 8″
$200
"Art and creating for me has always been a search for the beautiful and the sublime in nature. Annual visits to Sudbury and other sketching trips to northern Ontario in the spring and fall is where I find inspiration for potential paintings. I paint with oils on wood for indoor and outdoor sketching as well as for large paintings in the studio.
My brush strokes are thick and thoughtfully expressed.
My work consists of landscapes painted in an impressionistic style. I enjoy  plein air painting and I always take a photo of the chosen scene to use as a reference in my studio in case I don't finish the sketch on location. Other times I paint a small painting in my studio from a photo to then work into a larger painting if I choose to. My paintings can be described as dazzling; short brush strokes used sparingly.
Inspiration: My work is inspired by The Group of Seven, Wassily Kandinsky, Mysticism, and Theosophy.
Jesse Unsworth