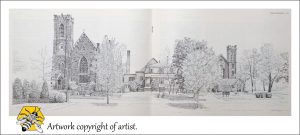 Albert Seaman
"St. Paul's United, The Boyle House and The First Baptist Church"
Illustration included as center spread (shown immediately above) for the 1978 book "Heritage Brampton-An illustrated review of some of the fine old buildings in the City- 1978"
Published by the City of Brampton Heritage Board
Port Hope artist, Albert Seaman, lived in Brampton for many years and was active as an artist and heritage enthusiast when he created his amazing illustrations that enhanced the publication.
Albert and Andy Donato had launched a Bramalea art group in the years before this Heritage Board publication. Albert served as Chairman of the Brampton Library Board also.