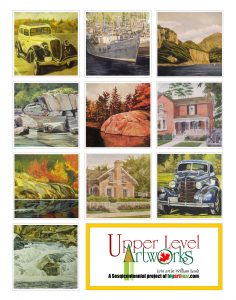 William Band
"William Band Portfolio"
Works by Erin artist William Band compiled for Upper Level Artworks A Sesquicentennial Project of Big Art Buzz.
There are ten square details of works in each frame and 15 frames
which showcases a total of 150 works for Canada's 150th.
This is the 14th posting of the 15 portfolios. One more to showcase.
William lives in Erin Ontario and has extensive experience in drawing and painting and gladly shares that knowledge  through his popular workshops.
See his work on William's official website.