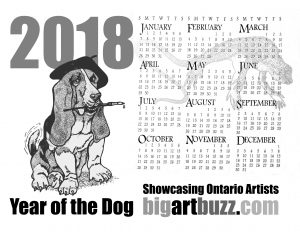 Keith Moreau
"Year of the Dog"
8.5″ x 11″
Click on image above to open the pdf of the 2018 calendar which gives you the opportunity to print for yourself and/or family or friend courtesy of Keith Moreau on behalf of Big Art Buzz.
Illustration created in pen and ink and brush and ink.
Calendar designed by Keith as part of his "Leaping Lizard" perpetual calendar he screen printed back in 1995.
Keith is the artist behind Big Art Buzz and welcomes you to the creative hive.
To see more of Keith's artwork, check out his Facebook page.