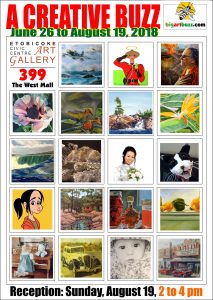 Keith Moreau, creator and manager of this site.
A Creative Buzz is a 56 day exhibit by our "Buzz" artists in the Etobicoke Civic Centre Art Gallery, 399 The West Mall, Etobicoke. It will be installed the afternoon of June 25, 2018 and the closing ceremony (a chance to meet the artists) is from 2 until 4 on Sunday, August 19.
Our five categories: Still Life, People, Modes of Travel, Animals and Landscapes.
Various mediums were used to create these works.
The Gallery is open daily. Weekdays from 9 am to 8 pm and weekends and holidays 9 am to 5 pm.
Inquiries about works or purchasing may be emailed to bigartbuzz@gmail.com.