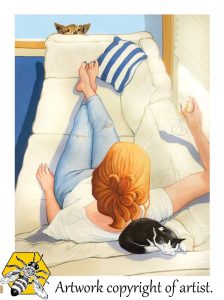 Anthony Jenkins
"Leisure XII"
From his "Leisure" series.
30″ X 40″
Acrylic on canvas
"Based on real daughter, Zoe and real dog, Maggie. The cat and the environs are artistic fiction."
Anthony's "Leisure Series" is on display at Nathan Phillips Square July 6, 7 & 8.
http://jenkinsdraws.com/ for more of Tony's
amazing works under many different categories.