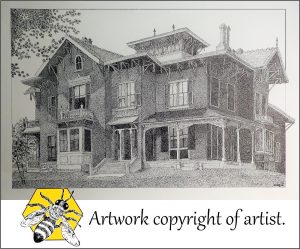 Keith Moreau
"Alderlea"
Pen and ink
20″ x 12″
In collection of The Royal Canadian Legion
This pen and ink stipple and line drawing was commissioned, by fellow artist and war veteran Stan Adams, of what at the time was the Brampton Legion. Stan gave the legion the original. It was originally known as Alderlea and was constructed circa 1867 for Kenneth Chisholm, businessman, political figure and son-in-law of John Elliott, a founding father of Brampton.
The original grandeur of the estate included a large front lawn and garden, which is now Gage Park, Brampton's first municipal park.
The mansion was purchased from the legion by the City of Brampton in 2002 and started renovations in 2010. It is now a special events center since a special opening in 2015.
I drew this from an old photo of Alderlea.
Keith is the artist behind Big Art Buzz and welcomes you to the creative hive.
To see more of Keith's artwork, check out his Facebook page.