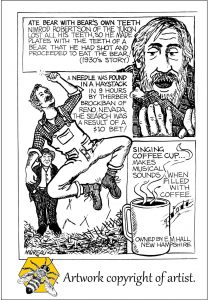 Keith Moreau
Illustration for interview
Brush and ink illustration
A couple of years before Ripley's moved their office from Toronto they were looking for someone to create their feature illustrations for newspapers.
After the initial stage they narrowed the selection down to ten illustrators and we had to do a sample (see above for mine). They then narrowed the roster down to 3 and I was one of the three. We then waited while they made their final decision.
And it wasn't me. So close but so far.
Keith is the artist behind Big Art Buzz and welcomes you to the creative hive.
To see more of Keith's artwork, check out his Facebook page.