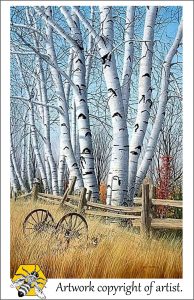 Conrad Mieschke
"Birch Trees in Ontario"
Egg tempera on board
28″ X 18″
On exhibit at Gallery on the Lake, Buckhorn, Ontario.
For more examples of Conrad's artwork, see his category on Big Art Buzz or visit his website https://conrad-mieschke.pixels.com/?
Along with his beautiful landscapes Conrad accepts portrait commissions in watercolour and pencil drawings.