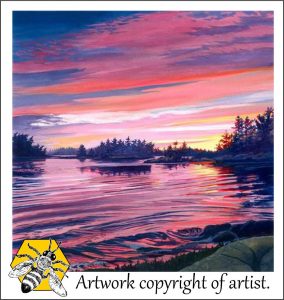 Lu Robitaille
"Calming Effect"
Watercolour print 10″ x 10″
$290
This work is on exhibit in our largest art show yet. See poster below for info.
There is never anything quite as nice as watching the sun set with friends. It makes us seem so tiny in such majesty of beauty and keeps us awestruck until the very last hint of colour leaves the sky.
Lu Robitaille was born in historic Penetanguishene. She and her husband raised their two children in the remoteness of Tadenac Bay, later settling in Huronia. Lu has a home studio on Cedar Brook Farm, her family fish farm. Her deep feelings for Georgian Bay live in the art she creates; her rocks and water reflect the love and warmth she has for this unique part of Canada. She has a great affection for the character of old farms and lighthouses. Lu has developed a new style and format based on watercolour for her medium. For more information, or to arrange a private viewing of her work, Lu invites you and your family to contact her.