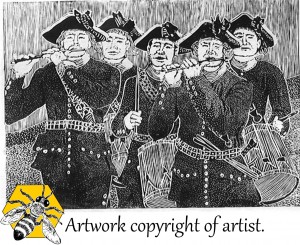 Keith Moreau
"Fife and Drums"
Lino Block Print
18″ x 23″
$175 no frame
This hand-cut lino print is based on a vacation photo taken during a visit to Fortress Louisbourg on the east coast of Canada. A barren was used to transfer the ink from the block surface to the rice paper.
Keith is the artist behind Big Art Buzz and welcomes you to the creative hive.
To see more of Keith's artwork, check out his Facebook page.