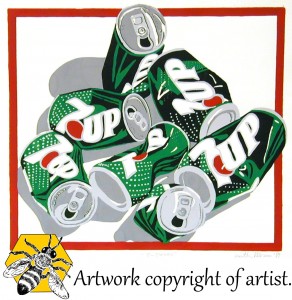 Keith Moreau
"Seven Down"
Serigraph
"Seven Down" is a limited edition elimination stencil serigraph (screen print). Keith drew the layout and then traced it to the fabric of the screen. Screen block out was applied to the screen fabric where he wanted the paper to stay white. He then printed the first colour which was the light green. The ink covered the entire area where the white wasn't. He kept blocking further and further areas as he printed each colour. The last area open to receive ink was for the final colour which was the red. The technique is called elimination since you eliminate areas of the open screen between each colour.
Seven Down is in various collections including the City of Toronto Art Collection.
Keith is the artist behind Big Art Buzz and welcomes you to the creative hive.
To see more of Keith's artwork, check out his Facebook page.