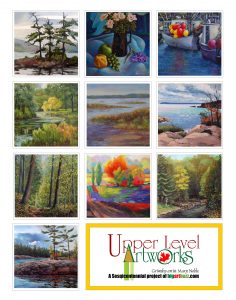 Mary Noble
"Mary Noble's Portfolio"
Works by Grimsby artist Mary Noble compiled for Upper Level Artworks a Sesquicentennial Project of Big Art Buzz.
There are ten square details of works in each frame and 15 frames
which showcases a total of 150 works for Canada's 150th.
This is the 9th posting of the 15 portfolios.
Mary says: "My paintings are also a collection of works that reflect my love of nature and my interest in the human spirit."
For more artwork by Mary, see her category on Big Art Buzz,, For more information on her artwork, contact Mary through Big Art Buzz.