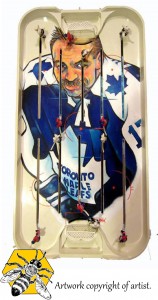 Anthony Jenkins
"Wendel"
Acrylic on table hockey game
$700
Anthony Jenkins was born in Toronto and attended the University of Toronto and the University of Waterloo, graduating with a B.A. in English and Fine Art.
Between  graduation and working for a living, he did the classic backpacking student summer around Europe. And was hooked….
His life's work has been as an illustrator, cartoonist and occasional writer at the Globe and Mail, Canada's National Newspaper, the best in the country.
Tony's formal training in old-school silkscreen and woodcut techniques are evident in a search for elegant, as well as functional line and a simplifying and flattening of colour.
Crazily extensive (eighty-four countries to date)  backpack travels on leaves-of-absence from a newspaper where he worked mostly in black and white engendered an abiding love of dramatic colour  (The African nation of Mali presents an eye-popping riot of colour in a landscape of unrelenting Saharan beige.) and a heightened fascination with his overwhelming favourite subject – the human face.
His work has appeared in the Wall Street Journal, Maclean's Magazine, The South China Morning Post, The Melbourne Age, The Straits Times in Malaysia, in the Lonely Planet line of travel guides and on the covers of many books for various publishers.
'Traveller's Tales – An Illustrated Journey through Australia, Asia and Africa' which he wrote and illustrated with his travel sketches, was released by Lonely Planet in 1985.
More recently, 'A Fine Line; The Caricatures of Anthony Jenkins' was published in 2013.  It is available atnestlingspress.com.